In November 2020, BindTuning became aware of an issue with the property panel, used to configure the web part, not storing string elements as expected.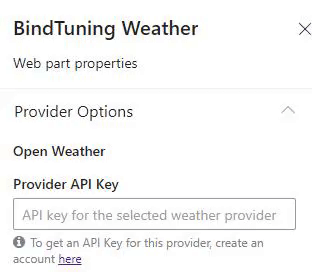 This same behavior is due to an error on the PropertyPaneTextField, clearing any text value added. Being this a SharePoint-derived issue, this constitutes an impediment for any product that utilizes that same text field and is, therefore, not directly related to a malfunction in BindTuning's products.
Likewise, this same scenario has been reported by other SharePoint users on GitHub, as evidenced in the following link.
The corresponding issue may be affecting users who, being in a Modern template site, are trying to:
Add a Provider API key to the Weather web part;
Add coordinates to a Maps web part.
As a workaround, we've verified that pasting those same values and clicking on the esc key, seem to force the text field to properly store.