Starting mid September 2020, BindTuning customers who have configured the Stocks Ticker web part with Finnhub as the data provider (see screenshot below) won't have it display results - the web part will appear blank to all users.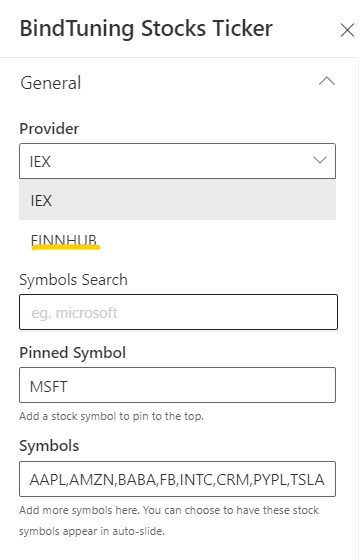 This behavior is due to recent changes on Finnhub's business model, which no longer provides a Free API for international markets (outside the USA). This recent modification made markets, other than U.S. Exchanges, inaccessible without a subscription and/or partnership with the provider. The issue has been impacting other companies and users of the Finnhub API worldwide - see below the example of other GitHub users with the same issue
According to a note added to Finnhub's documentation "Real-time stock prices for international markets are supported for Enterprise clients via our (Finnhub's) partner's feed." . If you would like to keep using Finnhub as your data source, or for a more immediate resolution, you may email Finnhub at support@finnhub.io for more information on available subscriptions.
Note that, if you are using U.S. stocks and stocks funds only, you can always use IEX as your provider - you can request your free API here. In the meantime, BindTuning is evaluating other options to mitigate the impact of the Finnhub's pricing change, providing the necessary adjustments to reflect user's needs: we will search for other free stock data providers that can be used as an alternative for users who need stocks data from outside the U.S. An update will be provider as soon as possible - for more information or further help, please reach out to support@bindtuning.com