Blogs are highly functional when you're considering a way to manage renewable content, especially if it originates from multiple contributors.
Our News Web Part allows the aggregation of several sources, presenting them in a single, visually coherent location, adding to the overall intranet experience.
If you have already created the blog, you can go directly to the section where we add the News Web Part to the page, otherwise we will need to create a Subsite, using the following steps:
Select the cogwheel ⚙ in the upper right corner > Site Contents


Select New > Subsite


Fill in the form with the required information and then select the Blog template


Select Create in order to see the result.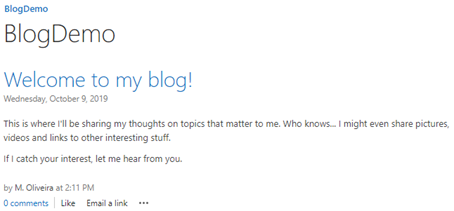 Adding the News Web Part to the page

After the blog is created, we'll need to add the BindTuning News Web Part to the page that will be presenting the blog's content, by selecting edit in the upper right corner.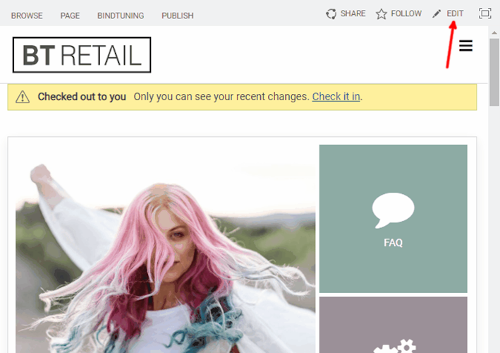 To install the Web Part, just follow this guide.
After we've added the Web Part, all we need to do is the inclusion of the content that we have published on the blog. Here's how:
Click on the ⚙ for Web Part properties


Click on Add List in order to access the article list
Place the corresponding URL to the Blog's Subsite, selecting Posts as the list to import.



Use relative paths for this field. Instead of using an URL like https://company.sharepoint.com/sites/Home, you should use something like /sites/Home/ like in the example below.





There will be several fields with the same name (like title for instance). Most of the time the first option is the one you'll want to use, but you might need to check the others if the content doesn't show.

All done!