To ensure the addition of new features, as well as the correct functioning of your Web Parts, BindTuning publishes, regularly, feature updates that you're able to install on your environment.
If your Web Parts have any available updates, you will receive an email notification, and a red circle icon is displayed in your Build section.
If you need to update your Web Parts, proceed as follows:
Start by logging in to your BindTuning account;
On your dashboard, click on the Build tab;

Under your Build area, you'll be able to check all your available Web Parts;

Locate the Web Part you want to update and click on the ellipsis (...);
Select the option Update now;
Alternatively, mouse over the Web Part you want to update, and select More Details. From there, click on the red ribbon that displays Update Now!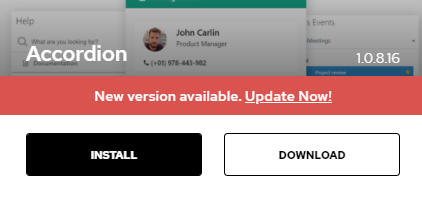 In some cases, it may be useful to proceed with a bulk update, so as not to update the available Web Parts, on a one-by-one basis. To do this:
Select the Web Parts you wish to update by checking the box on the top-left corner of the product;

Proceed to click on Update;

The new version will start being generated, and the updated Web Parts will be ready in a few minutes.
When updating, BindTuning is adding the latest features, modifications and/or corrections to your product package. Note, however, that those changes are not immediately pushed to your SharePoint environment. To push those same changes, proceed to "re-install" the product. Further information regarding the installation process can be found here.
If you'd like to update your theme (Design feature), be sure to follow the steps in this article.