What can I do with BindTuning Builder?
With BindTuning online Builder, you can brand your SharePoint in minutes with almost no code required. 
Where can I find the Builder?
On BindTuning Theme Gallery, after chosing the Theme layout which you want to start from, mouse over Start a Free Trial > Choose your CMS Version 
Is the Builder available offline?
No, it is not.
What are the customization options inside the Builder?
When you are on the BindTuning Builder, you will see an online dashboard with the different configuration options. On this article, we'll explain all the components on the Online tool that will help you do a customization of your Theme.
The BindTuning Builder has three different sections: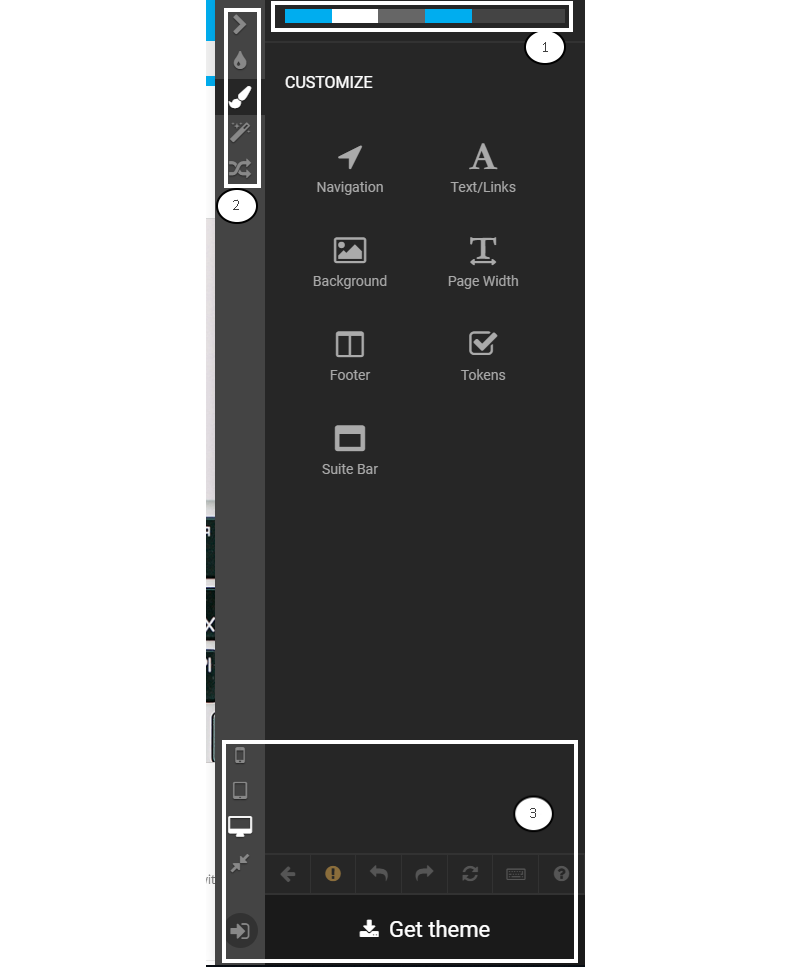 Section 1
The first section to be configurated, section 1 defines your main pallet of colors. The color pallet will define many of the elements you can configure
If you mouse over the color on this section you can see the elements where this color will be applied to your Theme customization.

Depending on the theme you select, you may have sections where the color is not in use.

When you click on the item it will allow you to change the color, then you will be presented with:
Color Variations - Select a color from the main palette of colors or select a variation of that.

More Colors - Use the select picker to specify the color that you want to use on this element.
When you click on each color, you will be able to change it using the More Colors menu, described below. Alternatively, you can also use the Industry Sets described below in Section 2 to define an entire new pallet.
Section 2
Customize specific elements on your theme and improve overall Theme performance.
Industry Sets - On this panel, you can pick a pre-defined configuration of colors to apply to your SharePoint site. Note this will change the main color section.

Customize - Where you can specific elements on your theme look and feel.

Options available include:




Depending on the theme you have selected, you may have different sections available to customize.




Navigation - You can specify more the colors and fonts that you want your navigation to have.

Text/Links - You can choose to have a font on your theme. You can select your own font. For this please follow the steps in the next article.

Background - It's possible to pick a color for the Background of the theme or use an image.

Sections/Footer - You can choose the colors that you want to apply to the footer zone.

Tokens - Pick your exclusive tokens like Copyright, Search, etc.

Suite Bar - Select the color that you intend to use on your Suite Bar.

Page Width - It's possible to define a page width, for that select the values inside of this option.

Magic Tool - You can upload a logo or paste a site URL, to make your intranet branding 100% aligned with your usual look & feel. Logo or website main colors will be added as a color pallet

Upload Image - Insert an image from your desktop and extract its main colors to your main color section.

Type an URL - Insert a website URL and get its main colors applied to your main color section.

Optimize - You can choose to remove some Bootstrap components that will allow you to increase the performance of your theme.
Section 3
Manipulate your BindTuning assets, customizations and return to all part of this section.
Check how your customization will look when you're accessing your site from different devices Mobile, Tablet or Desktop.

Click on your gravatar to access your own fonts, background, customizations and BindTuning account.

On My Customization, you may:

Replace your customization name already saved, clicking on the Disk icon.

You can also go back before the last change done by click on Undo, or apply again a setting by clicking on Redo.

It's possible to go back to the default theme customization by clicking on the option to Start Over.

You can also check the Shortcuts available, click on KeyBoard,on the Builder Tool and for more information about the BindTuning, the Help icon will guide you to our Knowledge Base where you can find more information about the BindTuning products.