When considering Intranet customization, you are most likely resticted to a pre-defined ruleset that can encompass brand-specific palettes, fonts, general styles, etc.
BindTuning fully understands the importance those guidelines play, when deciding on possible customizations, hence enabling you to mirror your Brand identity in a matter of minutes, taking advantage of our easy-to-use, point-and-click Customizer Tool, making sure all organizational units are able to take part in creating an engaging and functional SharePoint environment.
In order to start customizing your brand new BindTuning theme, follow the instructions below:
Note: If you do not have an active Design subscription, feel free to Sign Up and make use of our 30-day free trial, which provides you with unlimited theme customizations and installations.
Sign in to your BindTuning account;
Navigate to the Design tab;

On the top-right corner of your page, select Themes Gallery.
From there, you'll have access to our 20+ default templates, ready to be customized. After deciding on one of of the available themes:
Mouse over the theme and select More Details;

On the panel, select Brand this Theme;

Select the SharePoint version you are trying to customize the theme to.
This will proceed to open our Online Customizer Tool, where you'll be able to modify the following areas:
Navigation
Text/Links
Background
Sections
Tokens
Suite Bar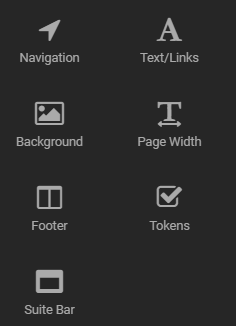 After finishing off on all the necessary adjustments, feel free to select the option Get theme.
The theme will be generated incorporating the customizations you have performed in the Customizer Tool and will be, subsequently, found under your My Themes tab.

Note: After the theme has been generated, you'll not be able to re-customize that same theme. If you want to perform additional adjustments, be sure to select a new theme template and proceed with its customization.