Yes!
You need to create a FREE BindTuning account in order to:
Explore all BindTuning features, including: Design (themes), Build (web parts), Teams (Microsoft Teams Add-on), the Accessibility Tool and Automate 365
Experiment with Starter Kits (ready-made sites and teams templates) that showcase the full potential of BindTuning
Customize themes using the BindTuning online customizer;
Install a trial of a BindTuning product;
Purchase a BindTuning product;
Pricing is publicly available at Pricing Plans - you won't need an account to verify pricing nor to request a quote.
How can I sign up?
To sign-up at any time, you need to:
Go to bindtuning.com
Click on the "Get Started" button from the homepage
You can either:

Register with Microsoft
Register with email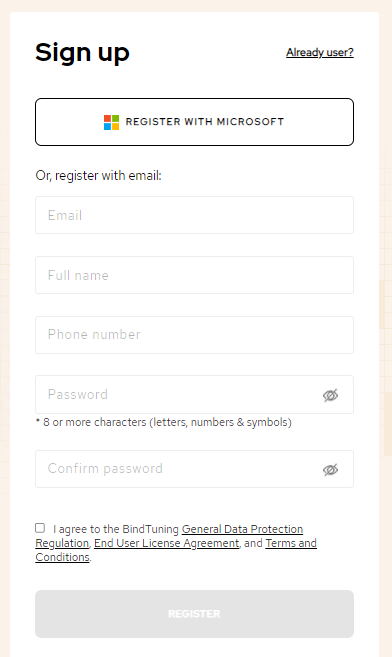 To register with Microsoft, click on the buttonand sign in using your Microsoft account. If you are logged into Microsoft in the browser you are using, you will be registering with the Microsoft account automatically. Please do keep in mind that all the BindTuning communications will be redirected to your Microsoft email.
To register with email, fill the information (Email, full name, phone number and password) and also check ''I agree to the BindTuning General Data Protection Regulation, End User License Agreement, and Terms and Conditions.
Hit ''Register''
BindTuning account created!