BindTuning themes also support custom fonts. To upload your own fonts to the Customizer Tool, please follow these steps:
Login to your BindTuning account;
On the left-side menu, navigate to your Design feature, followed by Themes Gallery;
Select one of the provided templates and click it;
Click on Brand this theme, followed by the correlative SharePoint version you're currently utilizing;

On the builder tool, click on your gravatar and then My Fonts;

Click on Upload fonts or drag to upload your custom fonts. Now that the fonts are available in your own assets, you can apply it to the theme's different zones;

Note: The upload process can be performed on a one-by-one basis or, alternatively, by uploading a zipped folder containing the necessary fonts.

In order to ensure full compatibility with any modern browser, we recommend uploading your custom fonts in the necessary file formats:

.eot;
.ttf;
.woff;
.woff2;
.svg
If your font files are in a different format, proceed to convert them to the remaining formats utilizing a font converter: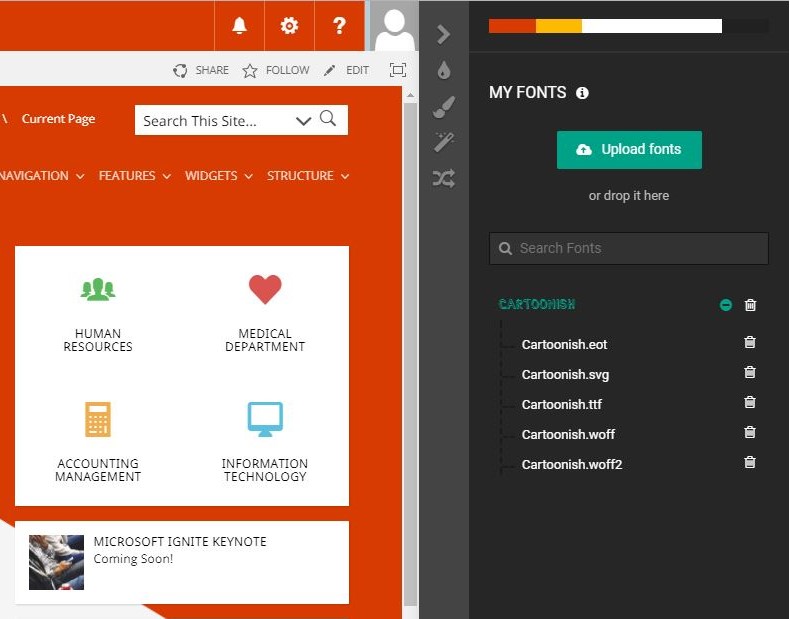 After uploading the fonts, validate the correct rendering on your My Fonts panel.
Note: In some instances, custom font files may be named incorrectly, hence not rendering the font as expected. This is due to an incorrect name convention and can be quickly adjusted by specifying the correct font-style. Further information regarding font-styles can be found here.
We recommend adding the corresponding font-style to the font name, so as the file follows the convention below:
MyCustomFont-Medium-Normal

MyCustomFont-Bold-Italic

MyCustomFont-Regular-Oblique
After successfully validating your fonts, you're able to utilize them in any new and/or subsequent theme customization. To apply custom fonts to any of your designs follow this article.